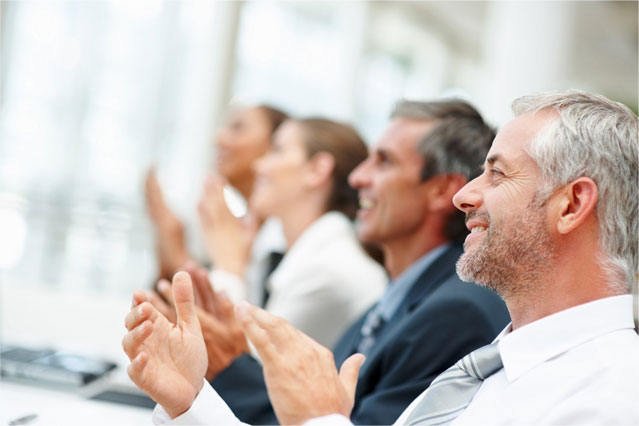 As of November 2013, only 16% of Canadian employees felt engaged in their jobs. To avoid a revolving door of employees due to dissatisfaction, we've put together some tips to connect with your staff and get them aligned with your organization's mission.
Get creative

Help your employees engage by encouraging creativity. As mentioned on CBC Radio's The Current, seminars on doodling are a great way to unleash creative thinking. Many businesses are employing author Sunni Brown's techniques from her book "The Doodle Revolution: Unlock the Power to Think Differently" to get their employees' creative juices flowing.

Hold staff meetings

Meeting with your department engages your employees by keeping them abreast of projects, timelines, and group decisions. It helps build a team and gets everyone involved.

Promote transparency

Like staff meetings, keeping your company transparent gives your employees the opportunity to feel involved. As mentioned in this Inc. article, "7 Ways to Engaged Employees", your employees will feel more engaged and important if you involved them in business plans.

Engage in performance conversations

This will allow you to help develop your employees and assist with their career growth. Performance conversations are also a chance for them to communicate their needs from you as a boss, which will open up a line of communication between both of you. An exciting new, narrative method of performance conversation is called Feedforward, which is garnering a lot of attention.

Establish clear communication

Clear communication allows you to let employees know what's expected of them in their role, as also mentioned in this Forbes article, plus it will help generate a relationship between you and your employees.

Let your employees share their ideas

Engage your employees by ensuring that their thoughts and opinions matter. As mentioned in this Forbes article, some companies are starting internal social media pages for employees to share their ideas with their bosses and coworkers.

Show your appreciation

This Monster.com article "What Makes a Great Boss?" notes that bosses who are awesome recognize employee efforts. It's important that employees know that the work they're doing is not only noticed, but is also appreciated. Instead of feeling like they're wasting their efforts, it will inspire them to continue to do well.

Create a friendly environment

Give your employees the opportunity to get to know each other. Team building exercises, staff events, or even group lunches help foster a friendly atmosphere and a chance for your employees to get to know each other on a deeper level. In this Forbes articles about the best companies for employee engagement, employee productivity improves when they feel connected.

Connect with your staff

This Huffington Post article "14 Tips to Engage Your Employees in 2014" states that putting people first is an important way to do business. It establishes a relationship between you and your staff that also improves productivity and profitability within your organization.

Be inspiring

A great boss is able to inspire. Most employees don't want to be told exactly what to do and how to do it. Use your position to help guide them in the right direction. Lead by example. As mention on this Inc. article "10 Things Really Amazing Bosses Do", great bosses know how to bring creativity into the every day to inspire their employees.
If you're looking for ways to engage your workforce, you can view a list of our services here. You can also send us an email at service@careercycles.com. We'd love to help you!